Why Simulations?
Simulations are designed to offer hands-on experience for professionals and paraprofessionals to learn, practice and hone their skills in life-like situations; with the advantage of a safe and supportive learning environment. A simulation center is specifically designed for this purpose, and is thus the most conducive venue. The majority of simulations are one-on-one scenarios between a trainee and the standardized patient, after which a debriefing takes place and class or group gather to discuss the learning experience, based on the filmed simulation or open discussion.
What are Social Simulations?
These are realistic scenarios with trained actors (simulated patients), designed to produce life-like situations relevant to many different professions. Simulations are integrated into the curriculum to provide a semi-structured, safe environment in which to learn and enhance skills, vital to a career in therapeutic professions.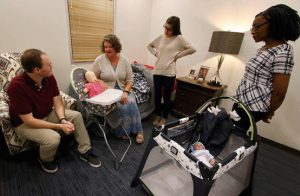 Individual simulations include specific clinical skills such as the motivational interview, suicide assessment, substance abuse, trauma focused therapy, and group therapy techniques.  They may also focus on administrative skills, such as personnel issues, managing a board meeting, fundraising or running a focus group.
The center also enables simulated home visits, home assessment and safety training.
The following are different types of one-on-one simulations offered:
Simulations for child welfare workers
Simulations for social workers
Simulations for physicians
Simulations for nurses
Simulations for sexual abuse therapists
Simulations for attorneys and prosecutors
Simulations for police officers
Simulations for dentistry students
Simulations for students