Child Neglect – what have we learned from "MIFGASH", a new intervention model in Israel?
March 31, 2021 | 1:30-4 pm Central Time
---

Link to download the invitation
Child neglect is a common form of child maltreatment; however, it is considered a "neglected" form of maltreatment in terms of theory and practice, and not enough is known about effective evidence-based interventions for working with parents and families. The "MIFGASH" model was specifically developed in Israel to work with hard-to-reach clients, living mostly in peripheral geographical areas, and in marginalized and impoverished communities. It has been successfully implemented in Israel for the past five years and has shown good outcomes. This two-part workshop is for professionals working with families through FCS. The workshop will entail presenting this new model for intervention around child neglect and will also include a discussion around the relevance and applicability of the model (or parts of it) to the Oklahoma context.
Avital Kaye Tzadok MSW, PhD
Avital Kaye-Tzadok is currently a Haruv USA Director and a visiting scholar at OU. She is a social worker (BSW, MSW, Ph.D.) with sixteen years of direct practice experience with marginalized populations, mainly at-risk adolescent girls and young women in Israel. She is also a social work lecturer, a certified supervisor, and a group facilitator.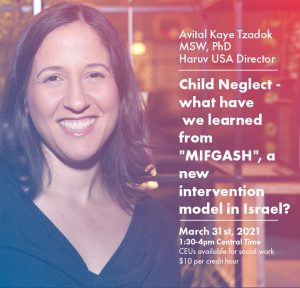 Free for the staff of Family and Children's Services
CEUs available for social work $10 per credit hour