Unpacking the Relationship between Poverty, Child Abuse and Neglect and Child Protection Involvement:
From Theory to Poverty-Aware Practice
Several decades of research have demonstrated a strong statistical correlation between poverty and child abuse and neglect (CAN) and between poverty and children's chances of becoming involved in child protection interventions. Yet, in practice, child protection practitioners often struggle to make sense of this relationship, and poverty is mainly treated as a background variable. In this talk, I will present contemporary international evidence regarding the relationship between poverty and child abuse and neglect and outline the essentials of poverty-aware practice in the child protection system.
Dr. Yuval Saar-Heiman
Dr. Yuval Saar-Heiman is a Marie Sklodowska-Curie and Haruv Institute post-doctoral fellow in the Social Work Department of the Royal Holloway University of London. His research addresses the Poverty-Aware social work paradigm and the intersection of poverty, child protection, and social work practice. In line with his experience as a social work practitioner and supervisor in the Israeli child protection system, his work focuses on the ways in which poverty and social inequality come into play in the everyday encounters between families, children, and child protection professionals.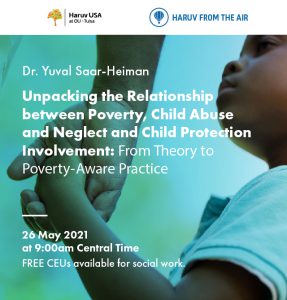 FREE with registration in advance. 
FREE CEUs available for social work.